London: it has something for everyone, from culture and history to fine food and good times. It's one of the world's most visted cities and home to over 8.6 million people. I have lived in this city for over 10 years and I love it. Whether you live here or are simply visiting, there is so much to do, see and enjoy.

To celebrate my love for this amazing city, I am releasing a TLGG London range, consisting of London project bags and charm stitch markers
Gorgeous fabric featuring London attractions,
Available in orange, grey and teal in the following sizes;Small, medium and large project bagsPyramid bagsNotions casesMini pyramids
When it gets to September and the weather starts to take an autumnal turn... doesn't it just spur the need to knit all the sweaters!
Knitting all the sweaters calls for the perfect, limited-edition sweater-sized project bag, surely...
Introducing the Sweater Season Special!

Large project bag perfect for sweater projects

A fun, modern sweater print on 100% cotton fabric
Light Grey 100% Linen contrast gusset bottom
Fully lined in grey 100% cotton fabric
Approximate dimensions: 10" by 14" with a 4" base
2018 edition includes a matching clip in notion case.
All bags are handmade in a smoke-free home; sizes may vary sightly.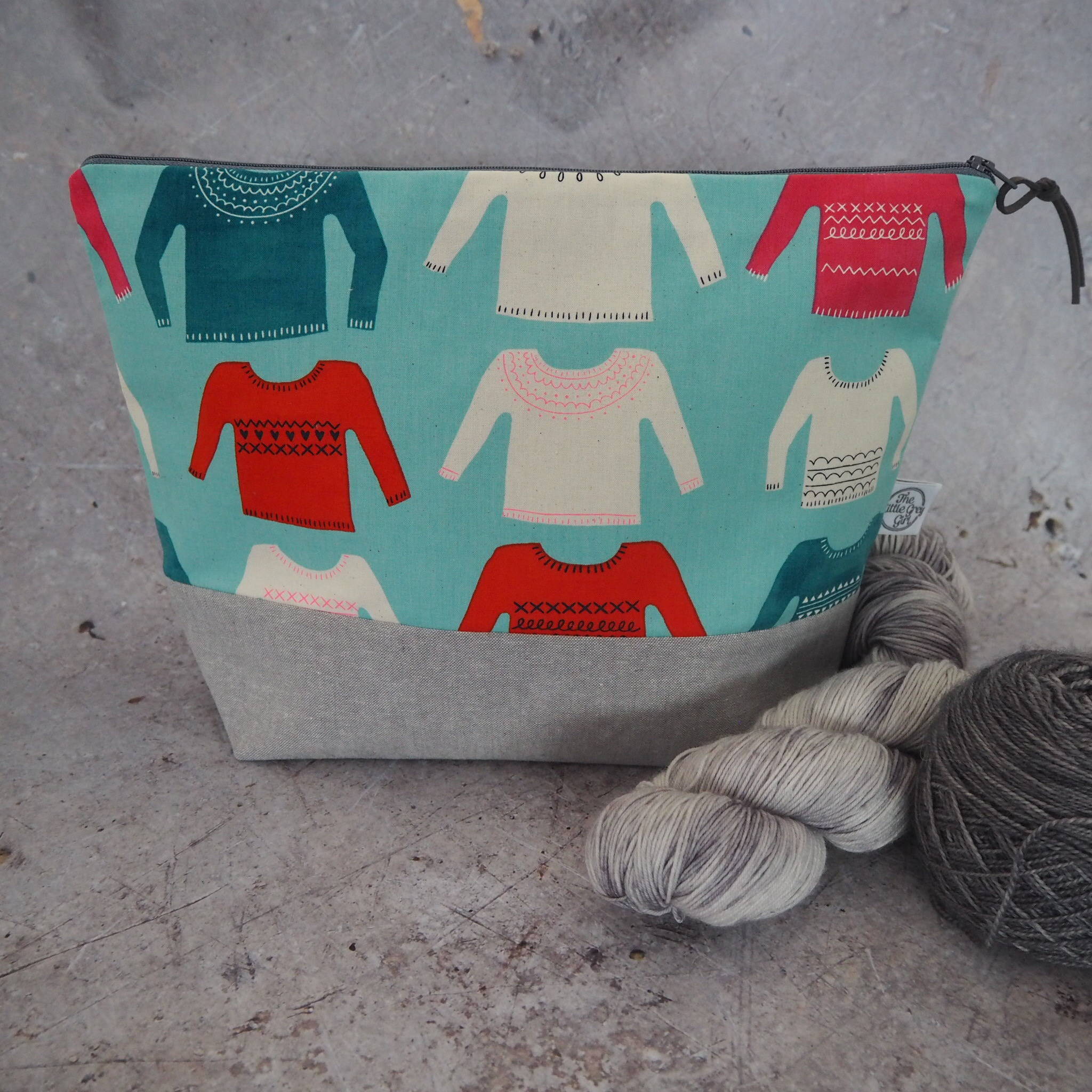 Strictly Limited Numbers Available
Available NOW
The winter months cry out for woollens... and fibre enthusiasts know this better than most. Give your winter projects a home in this new limited range of handmade Bags
Wool/Wool Mix Fabric with grey zip,
Little Grey Girl grey fabric label and herringbone cotton grey wrist strap on small and pyramid only.
Fully lined in grey 100% cotton fabric
All bags are fully handmade in a smoke free home and sizes may vary sightly, and should be dry-cleaned or hand washed.
*Image Pictured are the 2017 exclusive fabrics
Sizes Available:
'Tardis" Small Project Bags, Large Project Bags, Pyramid Bags,
Notions Case
Strictly Limited Numbers Available
Available Now
*All images pictured are the 2017 exclusive colourways